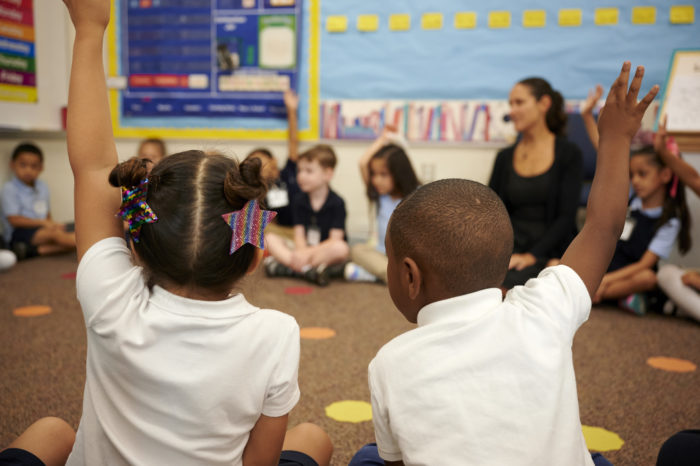 This was originally posted on Coldwell Banker Elite.
A school district and a home work congruently; a good school district can add family value to an already beautiful home. The balance of choosing a school district and a home can be difficult, since house-hunting with school-age children can be an adventure that contains an additional layer: finding a new school. Maybe you've found an ideal home in a not-so-ideal school district. Or you've found a great school district, but it's harder to find a home that ticks all the boxes. In certain markets it is easier to find both. In a highly competitive market—such as the one we are currently in—sometimes compromise is the way forward. Choosing between a school district and a house is a tough decision, but there are work-arounds and questions to ask yourself that can help you navigate the process. Read on to learn misconceptions and insights about this common issue.
Know the Myths and Facts about School Districts
It's always a good idea to research the school district of a potential home. You can view school rankings at sites such as GreatSchools.org and the National Center for Education Statistics. But before you do, let's dispel some common myths:
Myth: A lower-rated school district always offers a lower-quality education.
Fact: A district's ranking is not necessarily a sign of the school's value (or lack thereof). There are many factors in your child's education and success, such as extracurricular activities, community support, access to Advanced Placement (AP) classes, personalized learning, and the child's family support. If you find a good home in an area with many enrichment opportunities for your child, it may not matter if the school district is not top-ranked. By the same token, a highly ranked school district doesn't guarantee the best educational environment for your child.
Myth: Property taxes are higher in good school districts.
Fact: Property tax rate has more to do with where the home is located and how the local government has allocated taxes. Often, rural areas have higher property taxes while metropolitan areas (which often have higher-rated school districts) tend to have lower rates. However, homes in highly-rated school districts are on average 49% more expensive than the national median home price. In short, there are many factors at play. Always do your homework.
Knowing Your Options
If you find a home you love in a school district you are less enamored with, take comfort in knowing that you have options! There are many alternatives to public school if you worry that your child's education will suffer in your new district. Private schools and charter schools are alternatives that aim to provide students with more individual attention and specialized learning due to their smaller class sizes. Homeschooling or virtual classes can be great options as well.
Since all of these options either cost more money or more time, weigh them out based on your finances and family needs. Budget out what several years might look like for a variety of routes. Sometimes it ends up being more cost-effective to buy a home in a better school district rather than pay for private school tuition in your location of choice. Other times, the opposite is true. Doing your research and playing out the alternatives will help you narrow down your options.
Why a Home in a Great District May Be a Great Investment
It is worth noting that homes in highly-rated school districts tend to have higher property values and therefore higher resale values. If you plan to sell the home at some point, a home in a highly-ranked school district is often a good investment. (Plus, homes in above-average districts sell much faster.) There also tends to be more community activities, such as local sports leagues, parks, performing arts centers, and so on. These are all reasons to consider buying a home in a good school district even if you don't have kids.
Why a Great Home May Outweigh an Average School District
A high-quality home provides a safe, nurturing environment for your child—which ultimately contributes to their success. If you find a great home in a lackluster school district, don't write it off just yet. Evaluate the benefits and drawbacks of the local schools and look into community and extracurricular activities. There may still be AP classes and specialty programs suitable for high-achieving students, even in lower-ranked districts.
Plus, you'll likely save money on your home, which puts more money back in your pocket to save for your child's college fund, pay for their clubs and camps, etc.
Take the time to weigh all the pros and cons.
A Home in the Best School District for Your Family
Ultimately, your homebuying decision rests on your family's unique preferences and needs. Every family has different needs and there is no one-size-fits-all approach! With due diligence, you'll be able to choose a great home for your family.
Buying or selling a home can be stressful, but we're here to help. Are you starting the homebuying or selling process? If so, reach out to us and find the perfect agent for your needs today!
Coldwell Banker Richwill Realty
863-225-0575
39865 US Hwy 27, Davenport, FL 33897