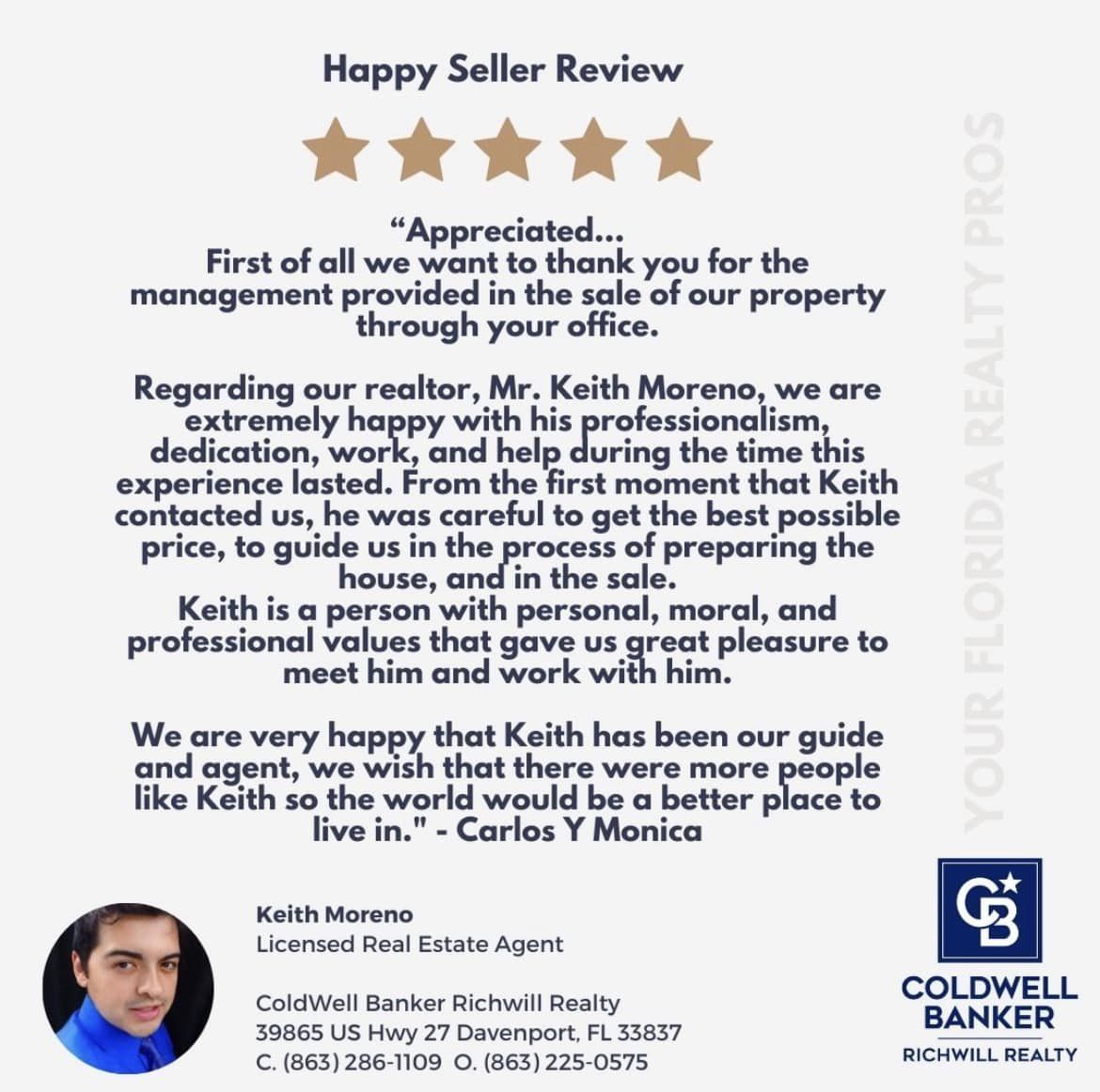 Appreciated...
First of all we want to thank you for the management provided in the sale of our property through your office.

Regarding our realtor, Mr. Keith Moreno, we are extremely happy with his professionalism, dedication, work, and help during the time this experience lasted.
From the first moment that Keith contacted us, he was careful to get the best possible price, to guide us in the process of preparing the house, and in the sale.
Keith is a person with personal, moral, and professional values that gave us great pleasure to meet him and work with him.

We are very happy that Keith has been our guide and agent, we wish that there were more people like Keith so the world would be a better place to live in.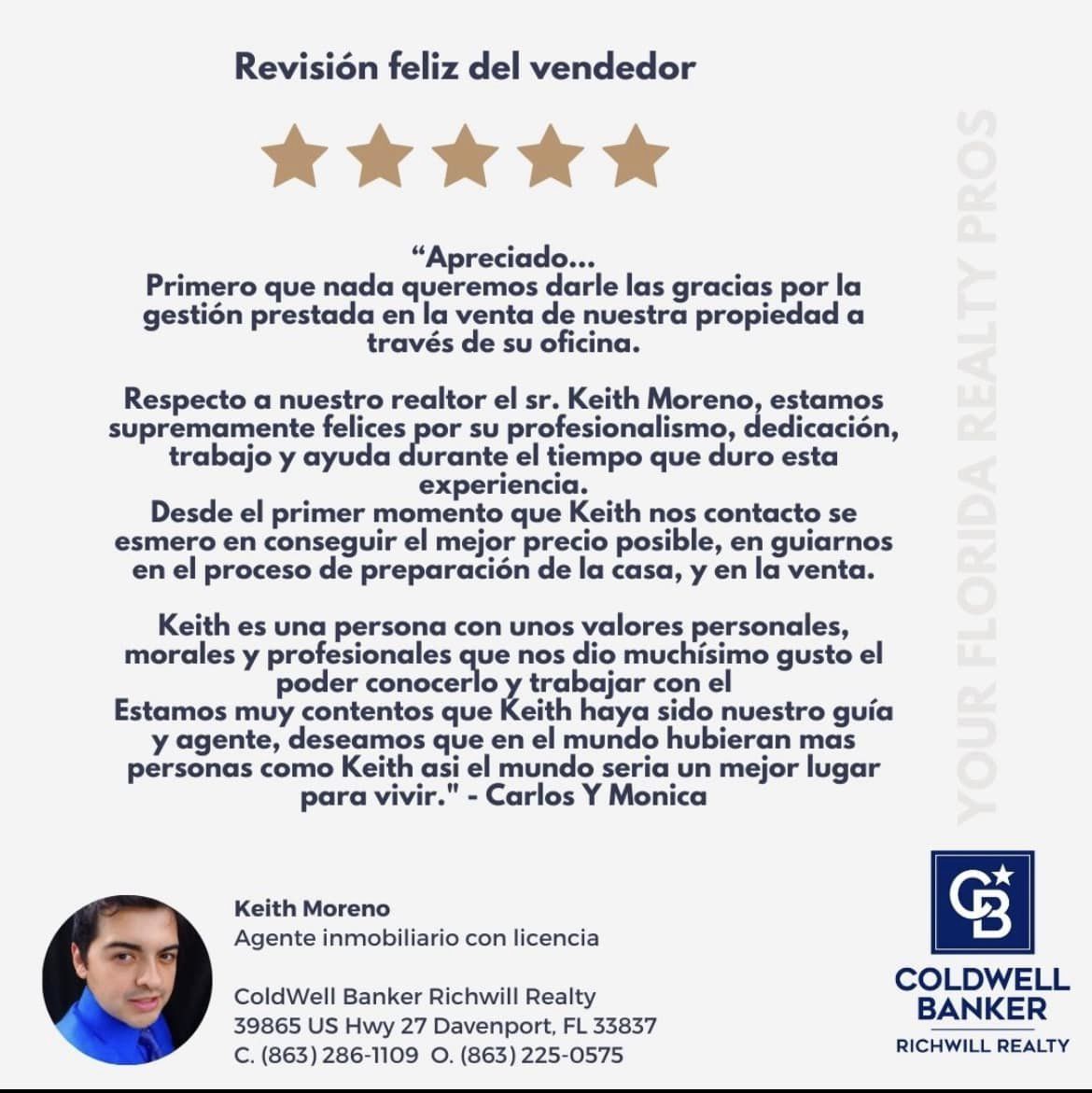 Apreciado…
Primero que nada queremos darle las gracias por la gestión prestada en la venta de nuestra propiedad a través de su oficina.
Respecto a nuestro realtor el sr. Keith Moreno, estamos supremamente felices por su profesionalismo, dedicación, trabajo y ayuda durante el tiempo que duro esta experiencia.
Desde el primer momento que Keith nos contacto se esmero en conseguir el mejor precio posible, en guiarnos en el proceso de preparación de la casa, y en la venta.
Keith es una persona con unos valores personales, morales y profesionales que nos dio muchísimo gusto el poder conocerlo y trabajar con el
Estamos muy contentos que Keith haya sido nuestro guía y agente, deseamos que en el mundo hubieran mas personas como Keith asi el mundo seria un mejor lugar para vivir.

Having a New Home Built
Rich was great! He not only was very good at showing us existing homes for sale but he also suggested we look into having a new home built. This was something we had not even thought about. We will soon be moving into our new home all because of Rich's dedication to helping us find the right house. No one could have more professional than Rich and we thank him for his hard work. - Barbara B.
Eyes on this Side for Out of Town Buyers
Rich was honest and hardworking. He went out of his way to help us in our recent purchase. Being an out of town buyer Rich understood what we needed, and was our eyes on this side while we were looking. I would definitely recommend Rich to all my friends and family. ~Denis V.
Professionalism Sincerity Knowledge
Although we never met in person as we are from Pennsylvania selling our property in Florida, Rich's professionalism, sincerity, knowledge and extremely polite communication skills have impressed our family. ~T.L Family Trust
"Over and Above the Call of Duty"
We were extremely fortunate to have Rich at our side as we looked for and purchased a home in Florida. He is highly professional from a real estate perspective and this is a great attribute. However finding the right house is just the beginning and Rich also did a wonderful job in ensuring that a number of hurdles associated with the transaction were smoothly overcome. Nothing was too much trouble for him and he went "over and above the call of duty" to help us get successfully through the process. ~McClelland Family
Negotiate for "the right home, our home"
Rich was incredible through our extended buying process. From meeting with my pregnant wife to show seemingly every property in the market , to providing access to an extensive roster of professionals to properly evaluate the prospective properties. Rich was with us and patient through the entire process allowing us to find and working hard to successfully negotiate for "the right home, our home". Rich has become family and we are thankful for him. ~Osubi C.B.
Estate Sale
Just wanted to say thank you so much for all that you have done with the sale of my mothers estate. Could not have done it with out you and if I decide to buy or sale again in Lakeland area I will surely be in touch. Thank you again. ~Kevin L.
New Construction
Rich is true to his profile description. We were relocating to FL from another state. His knowledge of the area and of the builders had a great impact on our decision. He was with us at settlement and have continued supportive after our move in. We had a few issues that needed to be fixed and Rich took the initiative to consult with the builder to stress our concerns. He has continued to follow up with us to be sure all issues are settled and that we are completely satisfied. We highly recommend him. ~Howard Family