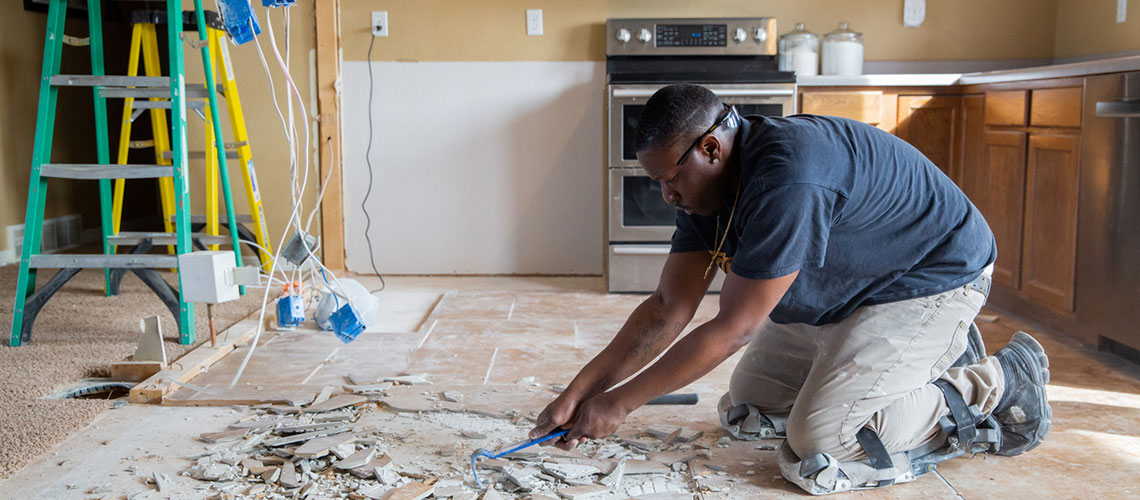 Looking to enhance your home's value? Whether you're eyeing a near-future sale or aiming to leave a lasting legacy, a crucial question emerges: Which renovations yield the most value relative to their costs? Certain renovations outshine others in terms of elevating your home's worth, a vital consideration if you intend to sell down the road.
Of course, renovation motivations vary. Their significance can factor into appraisals during mortgage or refinancing evaluations. Alternatively, they can boost your home's comfort and enjoyment factor, becoming satisfying projects for leisure. But for now, let's delve into the premier home renovations solely based on their value.
Expert Insights: Better Homes & Gardens highlights a report from the National Association of the Remodeling Industry, where realtors' pre-and-post renovation estimates indicate that over 80% of HVAC upgrade expenses can be recouped upon sale, while bathroom and kitchen remodels return over half of their costs.
Bankrate, drawing from Remodeling Magazine's Cost Versus Value Report, unveils average estimated cost returns for various renovations in US sales. Garage door replacement and stone siding yield above 90%, minor kitchen remodels hover above 70%, fiber-cement or vinyl siding approaches 70%, and wood or composite decks exceed 60%.
In recent years, "creating a home sanctuary" has become the paramount reason for renovations, as HomeLight suggests. This could involve upgrading leisure spaces or crafting the perfect telework home office. Pre-sale average ROI rates stand above 90% for new decks, above 70% for converted "specialty rooms," and above 60% for in-ground pools, kitchen islands, and walk-in pantries. Desired renovations extend to device charging stations, concealed home offices, hot tubs, in-law suites, laundry rooms, enhanced natural lighting, outdoor lighting, privacy hedges, increased storage, and walkways.
Top 5 Home Renovation Types:
1. Exterior Enhancement
Boosting curb appeal is crucial, and realtors concur by recommending basic lawn care and beautification prior to selling. This includes adding flowers, repairing pathways, trimming grass, rectifying doors and windows, painting exteriors, eliminating weeds, and applying garden mulch.
Entrance points, like entryways and garage doors, significantly impact a home's value, particularly for bolstering security. Faulty doors that impede ease of use waste time and become daily annoyances, necessitating prompt repair.
Stained wooden shingles exude rustic charm, while stone siding emanates strength. Brick and stone are renowned for insulating during winter and insulating during summer. Traditional wood siding suits homes that undergo frequent paint color changes for a fresh look.
2. System Upgrades
3. Though often unseen, heating, ventilation, and AC systems are crucial for optimal functioning. Updated HVAC systems are a compelling selling point. Prospective buyers of all ages shun the prospect of dealing with malfunctioning HVAC systems, making regular maintenance a must.
Increased illumination within a home is equally essential. Bright, cheerful, well-lit homes command higher prices, even if subsequent occupants leave lights off. Modern touches like automatic lighting, dimming options, and soft illumination can add appeal.
3. Minor Remodeling
Kitchens, as family focal points, warrant attention during sales. Center islands enhance flow and counter space, while additional cupboard or pantry room aids organization. Desired upgrades encompass energy-efficient appliances, accessible cabinets, pristine counters, flooring, and improved ventilation.
Bathrooms mirror kitchens in their impact on value, benefitting from aesthetics and modern amenities. Opt for surfaces that are easy to clean and visually pleasing. Dual sinks elevate shared bathrooms' appeal and functionality. Simple changes, like exchanging a builder-grade mirror for a decorative-framed one, rejuvenate outdated bathrooms.
A dedicated high-tech home theater and serene relaxation space sway potential buyers. Explore enhancements like bug screens, wood-fired pizza ovens, or compact outdoor appliances to transform outdoor patios with panoramic views.
4. Major Construction
In a home-centric era, increased square footage heightens value due to extended time spent indoors. Expanding high-value rooms like bathrooms and bedrooms, or adding exterior, basement, or attic rooms, is a surefire value booster. Even introducing a half-bath to homes with a single bathroom and available space near a water line can significantly elevate value.
Unfinished spaces offer potential. Converting certain porches into rooms with minimal partitioning and heating can create additional livable square footage and boost property value. If resources permit, consider a deck, remembering that wood entails higher maintenance costs compared to long-lasting composite materials.
5. Physical Accessibility
AARP data shows that 77% of adults aged 50 and above seek to remain in their homes long-term. Future-oriented planning is crucial. Depending on your home and personal needs, exploring enhanced accessibility might be worthwhile. Single-level homes offer optimal canvases for such renovations. A walk-in shower in at least one bathroom, as opposed to a bathtub, caters to those with mobility challenges. Simplified entries and smooth interior flooring cater to accessibility needs.
Ready to Begin Renovating? When entertaining a home remodeling notion, consider whether the change's value will outweigh the costs. An in-home pool may be appealing, but long-term maintenance costs must be feasible. Expanding patios, decks, or revamping bathrooms or kitchens can entail substantial expenses. Estimate labor and material costs before proceeding, comparing them to the anticipated value enhancement, whether for personal use or future sales.
Keep in mind that material costs can evolve, impacting renovation expenditures. Currently, wood prices are elevated, prompting exploration of alternative materials. While a full return on investment might not be guaranteed, the average return exceeds half, particularly in regions where such changes are in demand. Consult local realtors to discern value-driving factors in your area, or assess factors that could heighten your living experience.
Coldwell Banker Richwill Realty is dedicated to aiding your pursuit of the American Dream, be it purchasing or selling a home. Join us for invaluable advice, tips, and trends in the realm of home buying and selling!